This training aims at helping those working for the public good across Europe enhance their understanding of EU decision-making processes and their influencing skills.
This EU academy will be set in the context of the transition to a new European Commission, focussing on its role and how to influence it.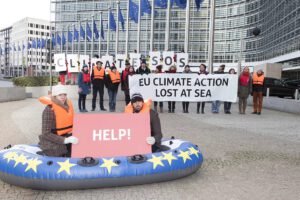 ​When & where
Thursday 17 & Friday 18 October 2019, 9:00-17:30
Holland House, Aarlenstraat 20, 1050 Brussels

​What
An interactive and practical two day training drawing from multiple cases on EU decision-making and influencing with Marc-Olivier Herman (EUChanger & Oxfam), Joost Mulder (Better Europe) and Dominik Schnichels (European Commission).
For who
All those working for a more inclusive and sustainable Europe at national or EU-level. This training is especially relevant for organisations seeking to develop or improve their influencing on issues where EU policy and legislation is key.
​
Download the programme & trainers' bio
Price €350
Lunch included. Exempt of VAT. Participants travelling to Brussels for the training will have to support their own travel and accommodation costs.
Reservation effective on receipt of payment.