The second EU Academy took place in Brussels on 17 and 18 October 2019.
Please subscribe to our newsletter if you would like to attend our next session in early 2020.
---
This training aims at helping those working for the public good across Europe enhance their understanding of EU decision-making processes and their influencing skills.
This EU academy will be set in the context of the transition to a new European Commission, focussing on its role and how to influence it.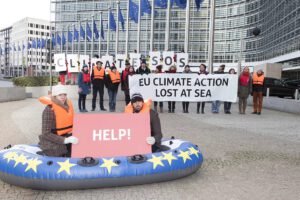 ​When & where
Thursday 17 & Friday 18 October 2019, 9:00-17:30
Holland House, Aarlenstraat 20, 1050 Brussels
​What
An interactive and practical two day training drawing from multiple cases on EU decision-making and influencing with Marc-Olivier Herman (EUChanger & Oxfam), Joost Mulder (Better Europe), Dominik Schnichels (European Commission – OLAF) and Saïd El Khadraoui (European Commission – EPSC).
For who
All those working for a more inclusive and sustainable Europe at national or EU-level. This training is especially relevant for organisations seeking to develop or improve their influencing on issues where EU policy and legislation is key.
​Price €350
Lunch included. Exempt of VAT. Participants travelling to Brussels for the training will have to support their own travel and accommodation costs.
Reservation effective on receipt of payment.