Please sign up for our mailing list to be informed of the next training.
Depending on the development of the Coronavirus outbreak, our next training might take place on 3-4 September.
Our next EUAcademy will take place in Brussels on 10-11 March 2020. The focus of this two-day interactive training will be on the Council of the European Union in the run up to the German presidency starting on July 1st 2020. We will take participants on a journey through the essentials of EU decision-making and influencing and then dive deeper into the role of the Council and its rotating presidency. The programme of the training is available here.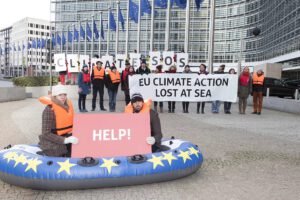 ​When & where
Tuesday 10 & Wednesday 11 March 2020, 9:00-18:00
Holland House, Aarlenstraat 20, Brussels
​What
An interactive and practical two day training drawing from multiple cases on EU decision-making and influencing with Marc-Olivier Herman (EUChanger & Oxfam), Joost Mulder (Better Europe), and external speakers from the EU institutions.
For who
All those working for a more inclusive and sustainable Europe at national or EU-level. This training is especially relevant for organisations seeking to develop or improve their influencing on issues where EU policy and legislation is key.
Want to know what the training is like? Three participants described their October 2019 EU Academy experience in a blog, available on the EUChanger website.
​Price €350
Lunch and drinks included, exempt of VAT. Participants travelling to Brussels for the training will have to support their own travel and accommodation costs.